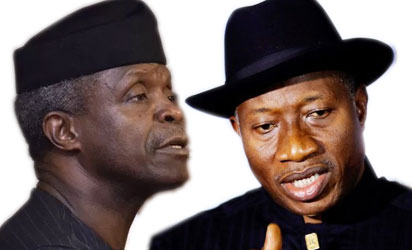 ABUJA—FORMER President, Goodluck Jonathan, has asked Vice President Yemi Osinbajo to be more concerned over his indictment by the House of Representatives in the N5.8 billion he approved for the National Emergency Agency, NEMA, without due process, than his (Jonathan) sojourn in office.
Jonathan, in a statement by one of his aides, Reno Omokri, was reacting to the Vice President's claim that his government saddled the country with debt and alleged corruption of his administration.
The statement read: "My attention has been drawn to regurgitated and discredited allegations by Vice President Yemi Osinbajo blaming former President Jonathan of saddling Nigeria with debt and ruining the economy by the alleged corruption of his administration.

"How can Vice President Osinbajo, a man who had just been indicted by the House of Representatives in one of the biggest corruption scams ever in Nigeria's history, have the gall to point accusing fingers on Dr. Jonathan, a man that is celebrated internationally for his efforts at achieving Nigeria's best rating in Transparency International's annual Corruption Perception Rating when Nigeria improved 8 paces from 144 to 136 in 2014?


"Having read through the sordid details of Professor Osinbajo's corruption as revealed in the indictment by Nigeria's House of Representatives, it is easy to understand why Nigeria made her worst ever retrogression in Transparency International's annual Corruption Perception under him this year, moving 11 paces backwards from 136 to 148.
"On the issue of debt, the fact remains that in the entire 16 years that the Peoples Democratic Party governed Nigeria, the total amount of money borrowed was 8.06 trillion Naira. These are facts sourced directly from the budget office controlled by the Buhari administration.
''However, in only three years, the All Progressives Congress led administration of President Muhammadu Buhari has borrowed a total of
10 trillion Naira. With this fact in hand, where does Vice President Osinbajo have the moral authority to point leprous fingers at former President Jonathan?
''The claim by Vice President Osinbajo that former President Jonathan left $$63 billion in debt is also a false claim. The Jonathan administration inherited $42.23 billion in debt in 2011 which were debts borrowed by the states and the Federal Government.